We are a producer of corrugated cardboard
We have been producing corrugated cardboard for over 25 years. In a short time, we have gained a significant position on the market, increasing the production volume each year. Subsequent investments allowed us to implement modern technologies, thanks to which our products meet the highest quality standards and customer expectations. Many years of experience and knowledge of the market make us perfectly aware of the needs of consumers. We always make every effort to deliver the highest quality cardboard . We have well-equipped technical facilities and the best generation machines, and our employees are specialized professionals with impressive knowledge.
We produce 2, 3, 4, 5-layer corrugated cardboards with the possibility of a combination of waves G, E, B, C, K.
Our offer also includes special cardboard – laminated, flame-retardant, with a water and fat barrier as well as decorative. The 2-layer model is a product that is perfect, for example, as a protective material during renovation works, thermal or technical insulation. It is also suitable for the protection of floors and floors. The lack of chemicals makes it fully biodegradable and environmentally friendly.
3- and 4-layer corrugated board are products that are much stronger, with higher wave height and paper grammage, and better resistance to crushing. If you are looking for something solid and durable – we recommend variants such as 5-layer corrugated cardboard and a laminated variety resistant to moisture and dirt. Regardless of the choice of the item, we guarantee satisfaction with the quality and attractive, affordable prices.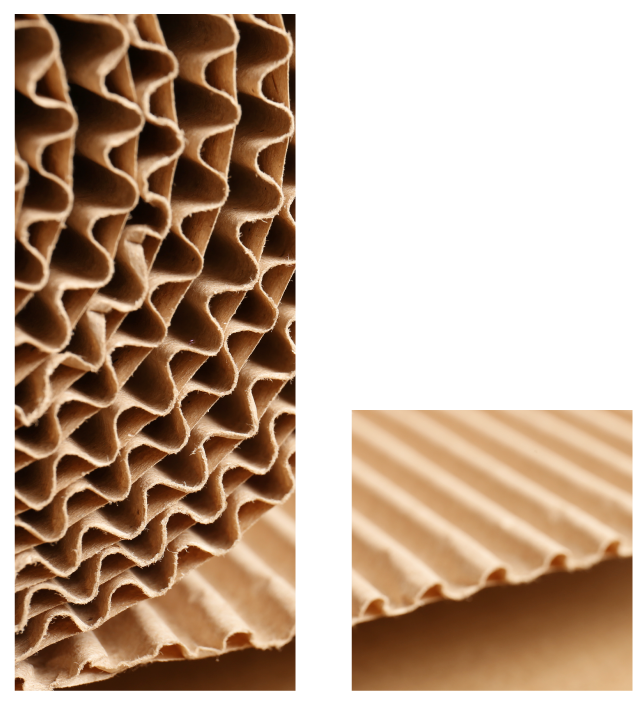 types of cardboard
We prepared for you a wide range of standard and special cardboards.

Standard cardboards
The marking of corrugated board results from the height of the corrugated layer:

E
height from 1.0 to 1.8 mm

B
height from 2,2 to 3,0 mm
C
height from 3,1 to 3,9 mm

EE
height from 2,7 to 3,2 mm

EB
height from 3,2 to 4,8 mm

BC
height from 5,3 to 6,9 mm

G
height about 7 mm, used do the boxes with the high strength, guarantee of maximum product protection

K
height about 7 mm, used do the boxes with the high strength, guarantee of maximum product protection

EG/GE
height about 3 mm, two different G and E microwaves make the cardboard extremely rigid and ideal for gift and display packaging

KC
height about 11 mm, very strong cardboard , used for the protection of the bulky items


COLORED IN MASS
all layers in color, often used to gift and fancy boxes

LAMINATED
cardboards with foil, scratch and abrasion resistant

SLOW-BURNING CARDBOARD
cardboards containing a substance which reduces burning of cardboard

WITH A WATER AND FAT BARRIER
cardboard that slows down the absorption of water and fat
if you are interesting the cooperation please leave us the message,
Top quality cardboard, always at good prices, I recommend.
Lorem ipsum dolor sit amet, consectetuer adipiscing elit. Donec odio. Quisque volutpat mattis eros. Nullam malesuada erat ut turpis. Suspendisse urna nibh, viverra non, semper suscipit,
Name Surname, Job title
Lorem ipsum dolor sit amet, consectetuer adipiscing elit. Donec odio. Quisque volutpat mattis eros. Nullam malesuada erat ut turpis. Suspendisse urna nibh, viverra non, semper suscipit,
Name Surname, Job title